Assessment Cubes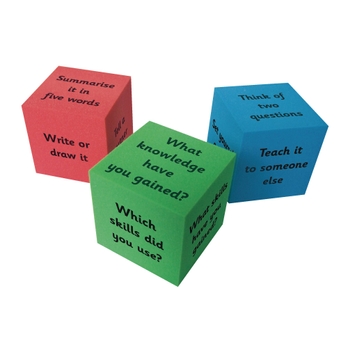 Assessment Cubes
ADMT10792
A set of 3 colourful cubes which are a practical and useful way to involve children in assessing their learning. In order to engage with activities in the classroom, children need to know why they are doing something and what they will do with the knowledge and skills they have gained. Assessment Cubes will do this in an entertaining and rigorous way. Each cube instructs a child to review their learning in a different way.
• The What Cube (Green) explores what a child has gained from an activity.
• The How Cube (Red) helps them decide what they are going to do with their learning.
• The What Next Cube (Blue) helps them to make connections between their learning experiences.
Throw or roll them individually or together to get 216 different combinations. Use just one cube to focus on one aspect of learning.
Involving children in reviewing their learning is vital to effective assessment. These cubes will enable you to do so in an enjoyable and purposeful way.
Thinking Skills - If you use the cubes regularly, children will have opportunities to develop their lower and higher order thinking skills, and to reflect on their thinking and learning, also called metacognition.
Assessment for Learning - The cubes can be used as a means to embed assessment for learning in your classroom. Using the green and red cubes together provides opportunities for children to show where they are in their learning. The blue cube will help them think about where they might go next in their learning. Rolling the red cube again may help them work out what steps to take to get there.
Developed by Mike Fleetham, Educational consultant and trainer.