Handwriting Warmup Cubes
Pack of two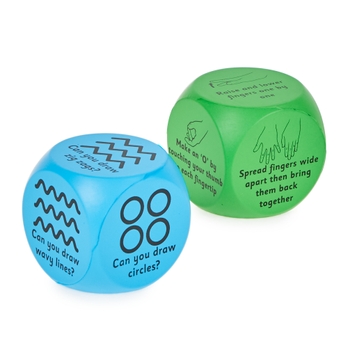 Handwriting Warmup Cubes
Pack of two
ADMT14866
Product Description
Get the muscles and fingers ready for writing with Handwriting Warm-up Cubes.
This set incudes 2 colourful 5cm, soft foam cubes featuring hand exercises and pre-writing patterns to help children practice fine motor skills in a fun and engaging way.
Handwriting warm-up cubes promotes fine motor skills, supports handwriting skills through building fine motor strength and control and improves fine motor skills children need to develop independence in everyday life skills
Well-developed fine motor skills are the foundation skills to support the production of legible and fluent handwriting. Introduce handwriting warm-up cubes into your daily classroom schedule with these fun activities to practice and improve fine motor development each day.
Encourage children to take turns to roll the hand exercise cube to complete a series of hand and finger exercises before beginning writing activities and take turns to roll the writing patterns cube and try to copy the pattern on the cube, why not try. . . mark making on different textures of materials such as foil, greaseproof paper, tissue paper and corrugated cardboard. Use different tools such as paintbrushes, crayons or gel icing or use sand to trace the patterns.