Emotions Cubes
Pack of three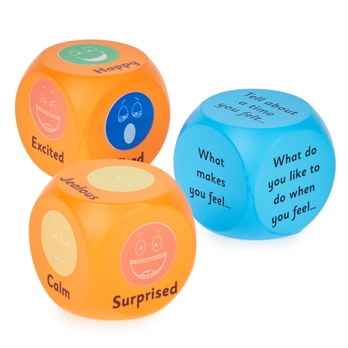 Emotions Cubes
Pack of three
ADMT14855
Product Description
Develop and encourage emotional literacy skills with Emotion Cubes.
This set incudes 3 colourful 5cm, soft foam cubes featuring pictures and questions to help children to learn to identify and express feelings in a positive way.
Emotion Cubes supports emotional wellbeing, improves children's emotional literacy and encourages healthy friendships.
Being able to explore and express feelings is an important part of the healthy development for children of all ages.
Emotion Cubes encourages children to identify, understand, express and manage a wide range of feelings and benefits their mental health and emotional wellbeing. Simply roll the cubes to start exploring emotional literacy and understanding emotions.
To help children develop their emotional vocabulary, why not try. . .
• Using the resource to help children name the feeling they have in different situations
• Encourage children to play it together to help build and support friendships
• Use the resource as an ice breaker game in a nurture group