Gross Motor Skills Cubes
Pack of two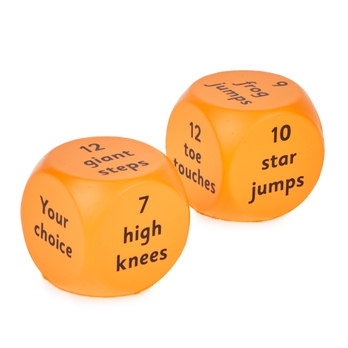 Gross Motor Skills Cubes
Pack of two
ADMT14870
Product Description
Get muscles and minds ready for learning with these gross motor skill cubes.
This set incudes 2 colourful 5cm, soft foam cubes featuring exercises to help children practice gross motor skills in a fun and engaging way.
Gross motor skills cubes encourages balance and coordination, improves strength and endurance and promotes body awareness
Practicing gross motor skills is an important part of the healthy development for children of all ages.
Gross motor skill cubes are a fun way of getting children moving and active and are wonderful for proprioceptive and vestibular input for children with sensory needs. Many of the movements require agility, balance and core strength.
Simply roll the cubes and watch children improve their motor skills and regulate their sensory systems as they perform each exercise.
Gross motor skills cubes can be used as daily morning exercise sessions to help children's bodies and minds prepare for learning or can be used to encourage short movement breaks.
To improve gross motor development each day, why not try. . .
• taking turns to roll the cubes to complete a series of exercises
• roll the cubes to set a challenge for a friend or see who can complete it the quickest
• promote team working by using the cubes to complete relay style exercises