Time to Talk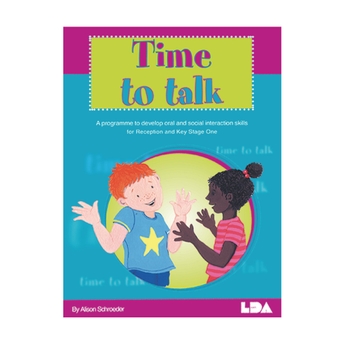 This product is not eligible for any further discount
Time to Talk
AGMT00498
Product Description
School can be a frustrating and confusing experience for children who have not developed their communication skills. Not only will accessing the curriculum be difficult, but so will developing cooperative skills and friendships.
Time to Talk has been developed to teach and develop oral language and social interaction skills to children aged 4–8 to make these aspects of school easier. Containing 40 sessions, designed to take place two or three times a week, Time to Talk will help you teach and develop the 'rules' of interaction with the help of Ginger the Bear, who features in all the activities. Skills taught include: eye contact, turn-taking, sharing, greetings, awareness of feelings, giving/following instructions, listening, attention and play skills.
Contains 224 A4 pages.
Age suitability: 4–8 years
Author Alison Schroeder is a speech & language therapist and primary school teacher who has written a number of social skills and language resources including The Friendship Formula, Socially Speaking and Time to Talk. She has over 19 years' experience of working with children with language and communication difficulties and specialises in the area of social communication.