Speech Sound Builder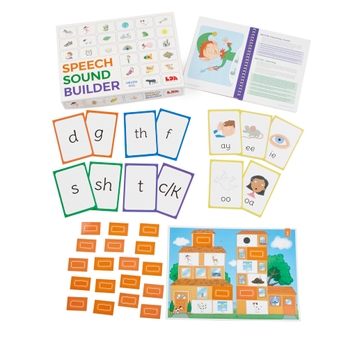 Speech Sound Builder
AAMT14040
Product Description
Speech Sound Builders is an easy-to-use intervention programme developed to help support staff and parents help children learn vital speech sounds, implementing techniques used by Speech and Language Therapists to support the development of children's speech sounds
Speech sound errors affect a child's ability to make themselves understood, but they can also affect their literacy development and social development. It is important that children can say the sounds accurately to develop the early phonics skills taught in the Foundation Stage and Key Stage 1 at school. Whilst many children's speech sounds will develop spontaneously, some children need specialist help to do so. This intervention programme is not designed to replace Speech and Language Therapy Services, but it can be used alongside therapy or in isolation.
This easy-to-use intervention programme contains a simple screen so that the adult can determine which sounds to work on and provides activities, strategies and a fun game. The learning of a sound is broken down into 7 manageable stages so that both the adult and the child can see progress:
Stage 1 Exploring sounds
Stage 2 Listening
Stage 3 Making
Stage 4 Practising
Stage 5 Joining
Stage 6 Building
Stage 7 Sentence building
Contains: 14 page programme instruction booklet, 20 vowel sound cards, 32 consonant sound cards, 12 game boards and 288 game tiles.