Sensory Corner Package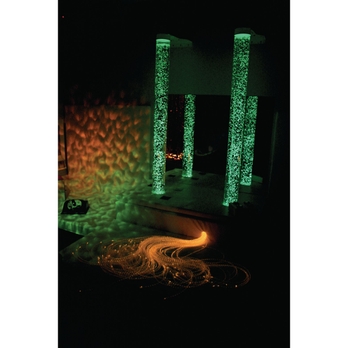 This product is not eligible for any further discount
Sensory Corner Package
AWMT13376
Direct Delivery – up to 4 weeks
Product Description
For those with limited space, this package will convert any dull corner into a wonderful sensory area. It features everything you need to get started:
A 2m interactive Bubble Tube with a cream padded plinth, wall bracket and water treatment fluid. The plinth features four coloured switches, which when pressed, will dictate the colour of the tube! The plinth is a quarter circle, which measures 900mm x 900mm along the back edges, and stands 300mm high. The Plinth then has a hole in the centre of the front to allow the Fibre Optic Harness to be threaded through, and the light source to sit inside the plinth itself.
A 15 strand x 2m Knotted Fibre Optic Harness and Light Source which is a great tactile effect for the users.
A LED Water Projector and Wall Bracket for fixing to the wall. The Water Projector scrolls through a spectrum of colours, and projects a moving, watery image onto the wall of your choice. For a great, watery themed area, project the Water Effect onto the Bubble Tube and Plinth.