Active Sensory Room Package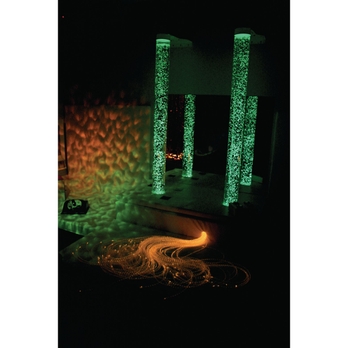 This product is not eligible for any further discount
Active Sensory Room Package
AWMT13517
Direct Delivery – up to 4 weeks
Product Description
A package designed to involve the user, encouraging interaction with the products, the Active Sensory Room Package is ideal for use in educational, or nursery settings to get the users learning about cause and effect! The package includes:
A 2m Interactive Bubble Tube with water treatment fluid and wall bracket. The Bubble Tube is supplied with a soft padded wireless cube, which has six different coloured sides. When the user throws the cube, whichever colour lands on top dictates the colour of the tube!
A 900mm x 900mm x 300mm high cream padded plinth. The plinth sits around the base of the tube to provide a comfortable seating area, should the users like to get up close to the tube itself. The Plinth then has a hole in the centre of one of the sides to allow the Fibre Optic Harness to be threaded through, and the light source to sit inside the plinth itself.
The Harness supplied has a knotted effect to it which is a great tactile feature. It includes 15 strands at 2m long, along with a colour changing light source to allow the fibres to gently colour scroll.
2 Acrylic mirrors which are for wall mounting behind the tube and plinth in the corner of the room are supplied, which provides an amazing heightening of the effect of the tube itself! The mirrors are shatterproof acrylic to ensure safety.
A LED Water Projector and Wall Bracket for fixing to the wall. The Water Projector scrolls through a spectrum of colours, and projects a moving, watery image onto the wall of your choice. For a great, watery themed area, project the Water Effect onto the Bubble Tube and Plinth.
A Mirror Ball, Motor and Pinspot with colour wheel which will project moving spot of coloured light around the room.
Lastly, this package includes the amazing Infinity Tunnel! Supplied for wall mounting, the Infinity Tunnel includes rows of LEDs which are reflected to give the impression of a tunnel of colour changing light! The tunnel includes an inbuilt control panel which features 16 programmes, and is supplied with a soft 4 way wireless switch to allow the users to dictate the colour of the lights. Amazing!