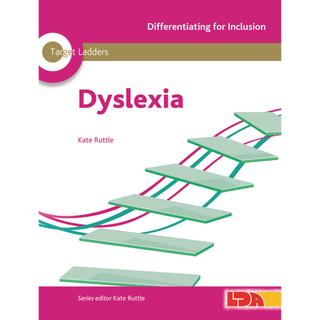 Target Ladders Dyslexia
Code: AAMT12584
Unit: Each
Product Description
Target Ladders: Dyslexia addresses seven key aspects of dyslexia and other reading difficulties:
• phonological awareness
• visual and auditory perception and memory
• phonics and spelling
• reading comprehension and fluency
• writing – handwriting, punctuation, sentences and text
• planning, organising and remembering
• self-confidence and motivation.
Helpful checklists and practical advice for creating a dyslexia-friendly classroom make this an ideal resource for the busy primary teacher.
Contains 96 pages, highlighting several hundred targets and comes with a CD with photocopiable material, including targets pages and Records of Progress templates.
ISBN 978-1-84403-548-5
About the author and series editor
Kate Ruttle is a leading practitioner for inclusion and special needs coordinator in two Suffold primary schools. She also advises other primary and secondary schools. Kate has an advanced diploma in SEN and a postgraduate qualification in dyslexia and literacy. She is an approved teacher for the Dyslexia Association.
About the series
The Differentiating for Inclusion: Target Ladders series is designed to narrow the gap between children with SEN and their peers. The books offer teachers helpful guidance in identifying both what children can already do and what specific targets they need help to achieve. Search 'target ladders' to find out more.