Writing Prompts Box 3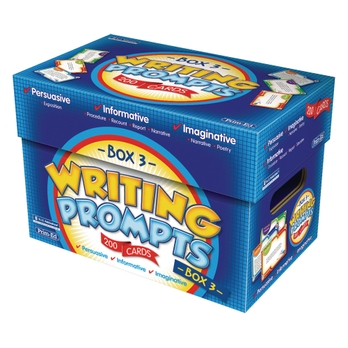 Writing Prompts Box 3
ACMT14451
Product Description
Writing Prompts is a high-interest, 3-box series that provides supplementary materials to support the classroom writing programme. These high-interest cards encourage children to express their creativity while learning how to write using a variety of styles.
Each box contains 200 writing cards, divided into 3 categories:
• Imaginative - Narrative, Poetry
• Informative - Procedure, Recount, Report, Narrative
• Persuasive - Exposition
The cards can be used for independent work,
whole-class discussions, small group work and most cards contain questions that will generate classroom discussions.
- great resource for teaching the composition dimension of the programmes of study for writing
- pupils may be assigned specific cards to work on independently or they may choose topics that interest them.
Writing Box 3 for 9 - 14+ years.