Writing Prompts Box 2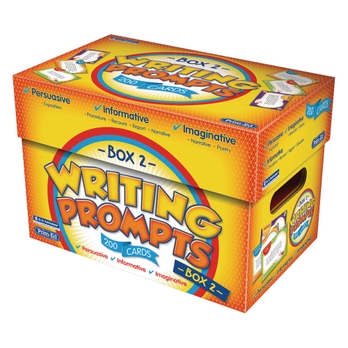 Writing Prompts Box 2
ACMT14163
Writing Box 2 for 9 - 14+ years.
Writing Prompts is a high-interest, 3-box series that provides supplementary materials to support the classroom writing programme. These high-interest cards encourage children to express their creativity while learning how to write using a variety of styles. The cards can be used for independent work,
whole-class discussions, small group work and most cards contain questions that will generate classroom discussions. A great resource for teaching the composition dimension of the programmes of study for writing.
Each box contains 200 writing cards, divided into 3 categories:
• Imaginative - Narrative, Poetry
• Informative - Procedure, Recount, Report, Narrative
• Persuasive - Exposition
Learning Outcomes:
Aims
• Acquire a wide vocabulary, an understanding of grammar and knowledge of linguistic conventions for reading, writing and spoken language
• Write clearly, accurately and coherently, adapting their language and style in and for a range of contexts, purposes and audiences
• Use discussion in order to learn
Writing
• Effective composition involves forming, articulating and communicating ideas, and then organising them coherently for a reader. This requires clarity, awareness of the audience, purpose and context, and an increasingly wide knowledge of vocabulary and grammar.
Lower key stage 2 – years 3 and 4
• Pupils should be able to write down their ideas with a reasonable degree of accuracy and with good sentence punctuation. Teachers should therefore be consolidating pupils' writing skills, their vocabulary, their grasp of sentence structure and their knowledge of linguistic terminology.
• Teaching them to develop as writers involves teaching them to enhance the effectiveness of what they write as well as increasing their competence. Teachers should make sure that pupils build on what they have learnt, particularly in terms of the range of their writing and the more varied grammar, vocabulary and narrative structures from which they can draw to express their ideas.
Pupils should be beginning to understand how writing can be different from speech.
Upper key stage 2 – years 5 and 6
• During years 5 and 6, teachers should continue to emphasise pupils' enjoyment and understanding of language, especially vocabulary, to support their reading and writing.
• Pupils' knowledge of language, gained from stories, plays, poetry, non-fiction and textbooks, will support their increasing fluency as readers, their facility as writers, and their comprehension. As in years 3 and 4, pupils should be taught to enhance the effectiveness of their writing as well as their competence.