Oxford School Dictionary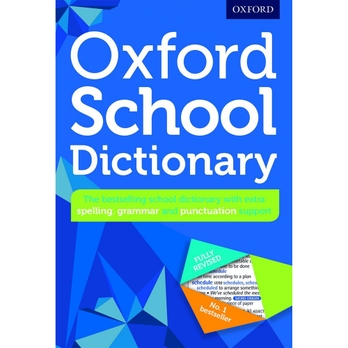 This product is not eligible for any further discount
Oxford School Dictionary
ABMT12293
45,000 words and phrases. Parts of speech and word forms given to help teach grammar and spelling. Up-to-date examples, grammar and usage notes. Hardback, 864 pages.
Reasons to Love:
• This child friendly dictionary aligns with the 2014 .
• The colour coding makes it visually attractive and easy to use, with the alphabet written down the side of the page to aid the child's understanding of alphabetical order and finding words quickly.
• The words are given pronunciation details, word type, definitions, and where needed, an example in context. This is even more powerful, as the examples are taken from children's books and great authors (Philip Pullman, Rosemary Sutcliffe).
• Word origins are given, explaining where the root word originated, providing an understanding of the history of the word.
• There is also a useful appendix to support Spelling, Grammar and Punctuation, with targeted help with the tricky bits!
• Further appendices include weights, measures and countries lists.