Tricky Word Pebbles - Set 2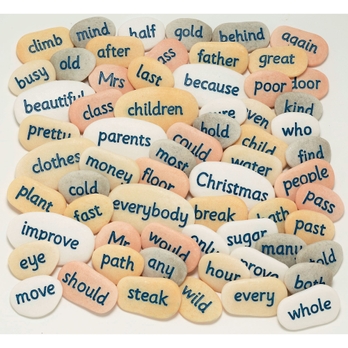 Tricky Word Pebbles - Set 2
ACMT14464
Product Description
This set of 64 pebbles can be used alongside or independently of Tricky Word Pebbles Set 1. Made from the same unique stone mix, each pebble is engraved and painted with a high-frequency word, moving beyond those found in Set 1 and incorporating those common exception words from the Year Two National Curriculum list. A leaflet is included providing exciting examples of group activities and the durable nature of the pebbles means these can be played both indoors and outdoors. Measuring between 45-80mm, these stones offer a tactile way for independent practice and opportunities for assessment. Age 3+.
Learning Outcomes:
Year 1
• Developing their knowledge of common exception words (noting unusual correspondences between spelling and sound and where these occur in the word)
Notes and Guidance (non-statutory)
• Ensuring that pupils are aware of the GPCs they contain, however unusual these are, supports spelling later.
• Knowledge of common exception words supports their fluency, as well as increasing their confidence in their reading skills. Fluent word reading greatly assists comprehension, especially when pupils come to read longer books.
Letters and Sounds
• There are 100 common words that recur frequently in much of the written material young
children read and that they need when they write.
• Reading a group of these words each day, by applying grapheme-phoneme knowledge as it is acquired, will help children recognise them quickly.