Phonix CVC Groupwork Set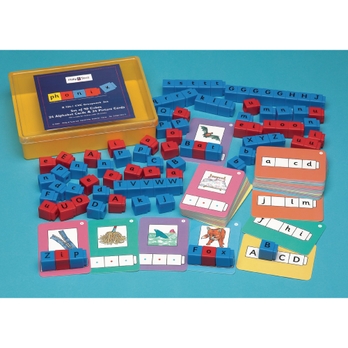 Phonix CVC Groupwork Set
ACMT01220
Practise word building and sequencing with these colour-coded cubes and challenge cards. Ideal for phonics activities in small groups, children guess the word from the illustration or letter grid, then form it from the robust plastic letter cubes. Includes 90 cubes (30 red vowels and 60 blue consonants) 24 pictorial word-building cards, 24 alphabet sequencing cards plus teacher's notes.
Reasons to Love:
• The Phonix range will provide a tactile element to your phonics sessions. The cubes are colour coded to enable the teaching of vowels and consonants. Further colour coding defines digraphs taught in phase 3 and 5.
• The cubes will aid the teaching of blending for reading and segmenting for spelling, as they can be manipulated to show how the separate sounds fit together.
• Additional resources are available to enhance independent learning.