Bumper Time Game Pack of 3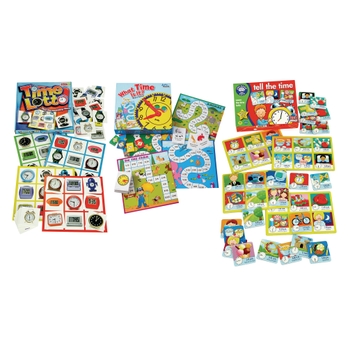 Bumper Time Game Pack of 3
AFMT14707
Product Description
The pack contains 3 time games. The Games included are:
Time Lotto
This Lotto game is an excellent resource for all children and those pupils with special needs. It is designed to encourage children to learn how to read and interpret analogue and digital times. Each board shows times on analogue and digital displays.Players match these times to cards on which the same times are presented. Contains 4 playing boards (205x 205mm), 36 time cards and teachers notes.
What Time Is It? Game
This is a set of 4 separate games all linked to telling the time on both digital and analogue clocks. There are 4 game boards with bright images on the themes of animal safari, under the sea, time with friends and on the farm. Each game is designed for 2-4 players. This set includes 4 game boards (each measuring 40 x 21.5cm), 96 game cards and 16 player pieces.
Tell the Time Lotto
Say the time out loud and try to make a match on your action-packed playing board.Children learn and develop skills with analogue and digital times. For 2 - 4 players.