Numicon® Year 3 & 4 Class Apparatus Pack B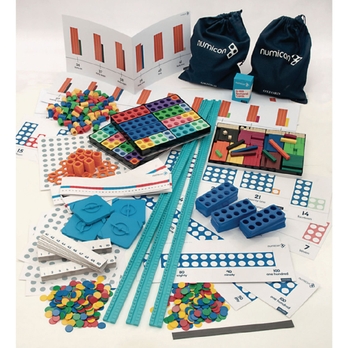 This product is not eligible for any further discount
Numicon® Year 3 & 4 Class Apparatus Pack B
AFMT14181
The Numicon® Apparatus Pack B contains core apparatus to teach children at age 7 years +. Includes: Box of 80 Numicon® Shapes, 80 Coloured Pegs, Feely Bag, 10s Number Line, Card 1-100 Number Track, 0-100 Numeral Cards, 0-100cm scale Number Line, Magnetic Strip, 1-100cm Number Rod Track, Coloured Counters Pack of 200, Double-sided Baseboard Laminates (pack of 3), 10 Numicon® Ten Shapes, Number Rods - Large Set, Display Number Line, Extra Numicon® 1-shapes, 0-41 Number Rod Number Line, 0-1001 Number Line
Reasons to Love:
• This is the essential resource pack for deepening understanding through numicon.
• Great for supporting the development of fluency round the four operations, whilst the teaching of fractions, decimals and probability can also be supplemented by this apparatus.
• Forms part of the concrete-pictorial-abstract approach which is consistent with mastery teaching/learning, as it encourages children to explore using structured imagery and apparatus. This is essential to helping them understand and explain their mathematical logic.
• Use as a way of improving recall/fluency of times tables and related division facts, especially with statutory testing being introduced in Year 4 later this academic year.