Numicon® Large Foam Shapes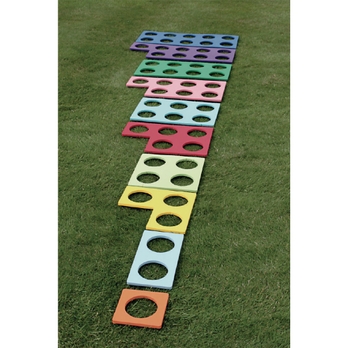 This product is not eligible for any further discount
Numicon® Large Foam Shapes
AFMT14680
Perfect for outdoor and indoor use, the Numicon® Large Foam Shapes give you the opportunity to explore number in an engaging and practical way. Each pack contains one large foam shape of numbers 1 to 10, in colours to match the Numicon® Shapes. The largest shape is 900 x 350mm, and smallest is 175 x 175mm.
Reasons to Love:
• These large colourful foam shapes allow children to explore and explain their logic on quite literally a much bigger scale!
• The large shapes are perfect for work with bigger classes and larger groups and naturally lend themselves to totalling activities which could be incorporated into PE lessons. For example – can you throw a beanbag into two or more holes to represent a given number?
• Excellent way to consolidate number bonds, sequencing and ordering.
• The value of each piece doesn't have to be confined to 1-10, they can be easily changed to allow work with larger numbers in conjunction with the increasing difficulty of the curriculum higher up the school.