Numicon® Baseboard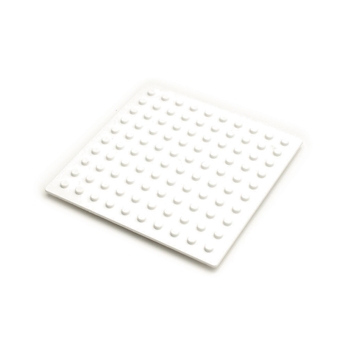 This product is not eligible for any further discount
Numicon® Baseboard
AFMT14075
Plastic square with 10 x 10 raised circle for placing Numicon® Shapes and overlays on. Also a base for building towers of number bonds or making patterns with the Numicon® Pegs. This blank 100 square base board is useful in many Numicon® activities.
Reasons to Love:
• A great base for making patterns using the Numicon pegs and doubles up as a blank 100 square which is perfect for teaching multiplication/timetables facts.
• Test children's spatial awareness and ability to estimate through asking them to cover the board. Represent simple fractions using the board e.g. how many tenths cover the board?
• Change the value of each board square to a ten for example, allowing for work with much larger numbers (seven digits and above) consistent with curriculum objectives in Year 5 & 6.
• Use in upper key stage 2 as a means of finding reflective symmetry, consistent with curriculum geometry objectives.