Rainbow Fraction Teach Kit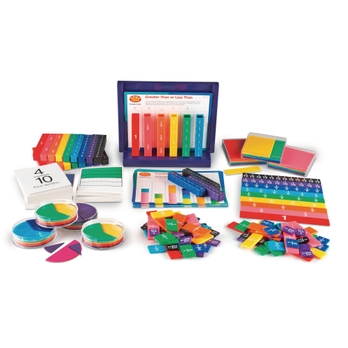 Rainbow Fraction Teach Kit
AFMT14173
A complete fraction teaching set for children aged 6 years and above. The colour-coded elements help children learn about fractions, equivalents and visual differentiation of values by utilising circles, tiles and squares for demonstration or hands-on individual learning. The kit also contains flashcards, activity cards and a teaching guide to reinforce classroom studies.
Reasons to Love:
• This bumper set of colour coded hands-on teaching resources are the complete package when it comes to teaching fractions. A range of manipulatives are included, ideal for teacher demonstration, to fractions rods and cubes designed to be used as a support mechanism for children.
• Includes cards with fraction values that can be easily matched to the corresponding visual representation, whilst slotting the tiles together produce a handy fraction wall allowing for comparison and finding equivalence between fractions.
• Comes equipped with both activity cards and teacher guide to ensure best use of resources provided.