About Me Cubes
Pack of three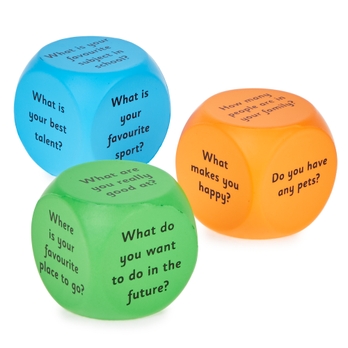 About Me Cubes
Pack of three
ADMT14872
Product Description
Support the learning of important social skills with All About Me Cubes!
This set incudes 3 colourful 5cm, soft foam cubes featuring conversation boosting questions to help children get to know each other.
All About Me Cubes help to develop communication skills, teach cooperation and encourage healthy friendships.
Practicing social skills is an important part of the healthy development for children of all ages. Good communication helps children make friends and achieve their potential both at school and beyond.
All About Me Cubes are a fun way of helping children get to know each other. Simply roll the cubes and watch children improve their speech, language and communication skills.
To improve social skills development, why not try. . .
• Using the resource at the start of a new term to get know your class children
• Encourage children to play it together to help build and support friendships
• Use the resource as an ice breaker game in a nurture group
The questions are based on information needed to complete an EHC plan making it a perfect game to play with children when assessing the necessary support.